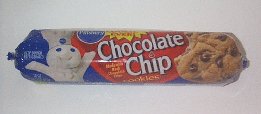 On Saturday Night at
SawGrass
I made my Cookie Dough Gooey Dessert. This is a HIT out of the park
every time
I make it. From the sounds everyone was making while eating it, well I would say it did not let me down at
SawGrass
. I decided to share this recipe with the blogging world, the only catch is: to you it needs to be called "Jessa's Cookie Dough Gooey Dessert"... Yes I know a little wordy, but that is the deal.. take it or leave !! When it comes to cooking I don't have much, but I am proud of this one !! Sure I got it out of a cooking book, but
I
got it (meaning it's mine) !!
Quick warning: It looks good and smells even better, but don't put too much on your plate at first. It is WOW rich !!
Cookie Dough Gooey Bars:

2 (8 oz.) choc chip cookie dough rolls
1 (8 oz.) container of cream cheese (softened)
3/4 cup of sugar
1 egg
1 teaspoon of vanilla extract
* After spraying pan (9 x13) with
pam
spread 1 entire roll of cookie dough on the entire bottom.
* Mix cream cheese, sugar, egg, and vanilla. Mix good (I do not beat it, I usually just stir real good with spoon)
* Pour Mix over Cookie Dough
* Take other roll of cookie dough. Break into pieces, flattened with hands, and place over mix. The mix will be mostly covered, but not entirely. That is
ok
so the mix can come through a little.
* Cook at 350'
* The directions say to cook for 30 min. I usually set my timer for 20 minutes and watch it after that. I usually end up cooking it for around 25 minutes total. it all depends on how gooey you want them.
* Let sit for awhile to settle and cool..
* Best to serve with spoon and eat with spoon.
Even Mr. Pillsbury himself would like this one !!
Enjoy and share it (it is worth it)